📍 Turin, Italy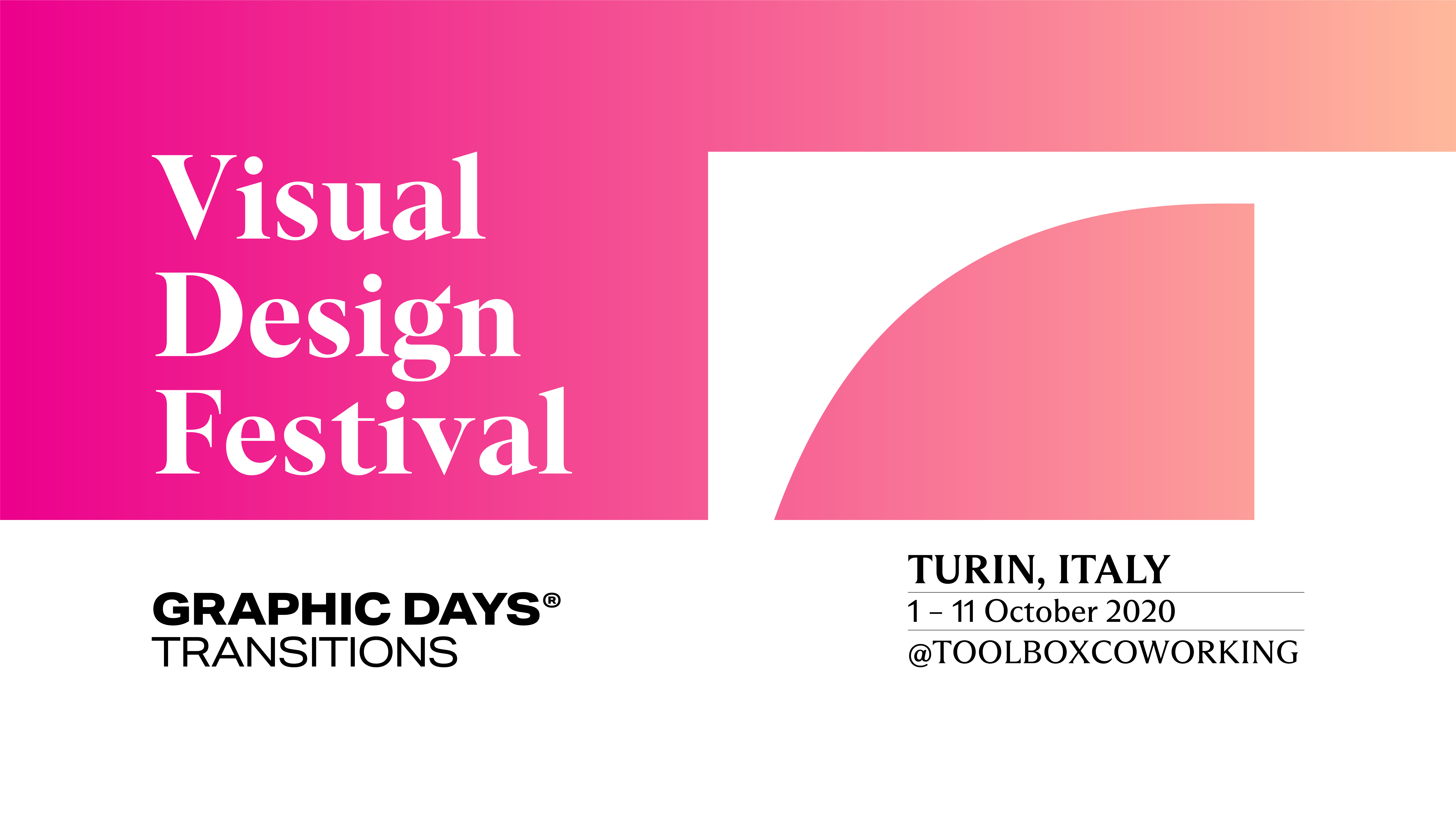 Graphic Days® is a project promoted by Print Club Torino and dedicated to Italian and international visual design. Every year, Graphic Days® involves the most relevant artists, professionals and agencies of the international scene in a widespread festival.
Graphic Days® Transitions is the fifth edition of the international festival dedicated to graphic and visual design. This special edition will host a series of events, both online and in presence, involving an international panel of professionals and visual design studios committed to investigating, through the systemic approach, new paradigms and possible scenarios related to our society and living environment. The programme includes talks, workshops and an exhibition itinerary dedicated to examining the new interpretation of the archetypes of traditional Italian culture.
🎟 Tickets
🏢 Venue
Toolbox Coworking
Via Agostino da Montefeltro 2
10134, Turin
Italy
🏋️‍♀️ Workshops
HHOHH OOHOO, 
, 
with 
Fabian Harb (Dinamo Typefaces) and Michelangelo Nigra
Print Club Torino
Via Agostino da Montefeltro, 2, 10134
, 
Turin
Prepare for a 2-day immersion in typeface design with Fabian Harb from Dinamo together with Michelangelo Nigra! All typography lovers, total beginners, graphic designers and professionals are invited to join the workshop where one will develop design ideas from the starting point to the digital and variable type output. Bring the most surprising item in your possession (or a picture of it) to the workshop and get your laptop with Glyphs.App or a comparable type design editor installed and get ready for work!
Paesaggi e passaggi, 
, 
with 
Matteo Berton
Print Club Torino
Via Agostino da Montefeltro, 2, 10134
, 
Turin
Distant universes, places made of counted minutes or infinite spaces, where shades are ambivalent and paved trails intersect; the illustrator Matteo Berton will lead an expedition to discover exotic atmospheres. A creative workshop for designers, artists or aspirants who have the curiosity and audacity to experiment with techniques, tools and lots and lots of colors. On the first day, the participants will work on the composition of a personal subject in digital, reproducing the tempera technique. While on the second day a final layer with acetate and acrylic will be produced and printed in superimposition with the screen printing technique. The workshop will be held in Italian.
Mettici un albero, 
, 
with 
Andrea Serio
10 Oct 2020
-
11 Oct 2020
Print Club Torino
Via Agostino da Montefeltro, 2, 10134
, 
Turin
Ettore Sottsass once said that any complex issue may be resolved by adding a very simple and intuitive element into it: "Quando non sai che cosa fare, mettici un albero. Va sempre bene". For him, the element was a tree – the one that remains vividly in our memories or the one that we observe each day while walking back home. For this workshop, Andrea Serio got inspired by the vision of Sottsass and invites all the participants to work with the object that is extremely clear, but at the same time provides a depth of meanings and variations. During the two days of the workshop, an original composition will be developed in the risograph technique under the guidance of the illustrator Andrea Serio. The workshop will be held in Italian