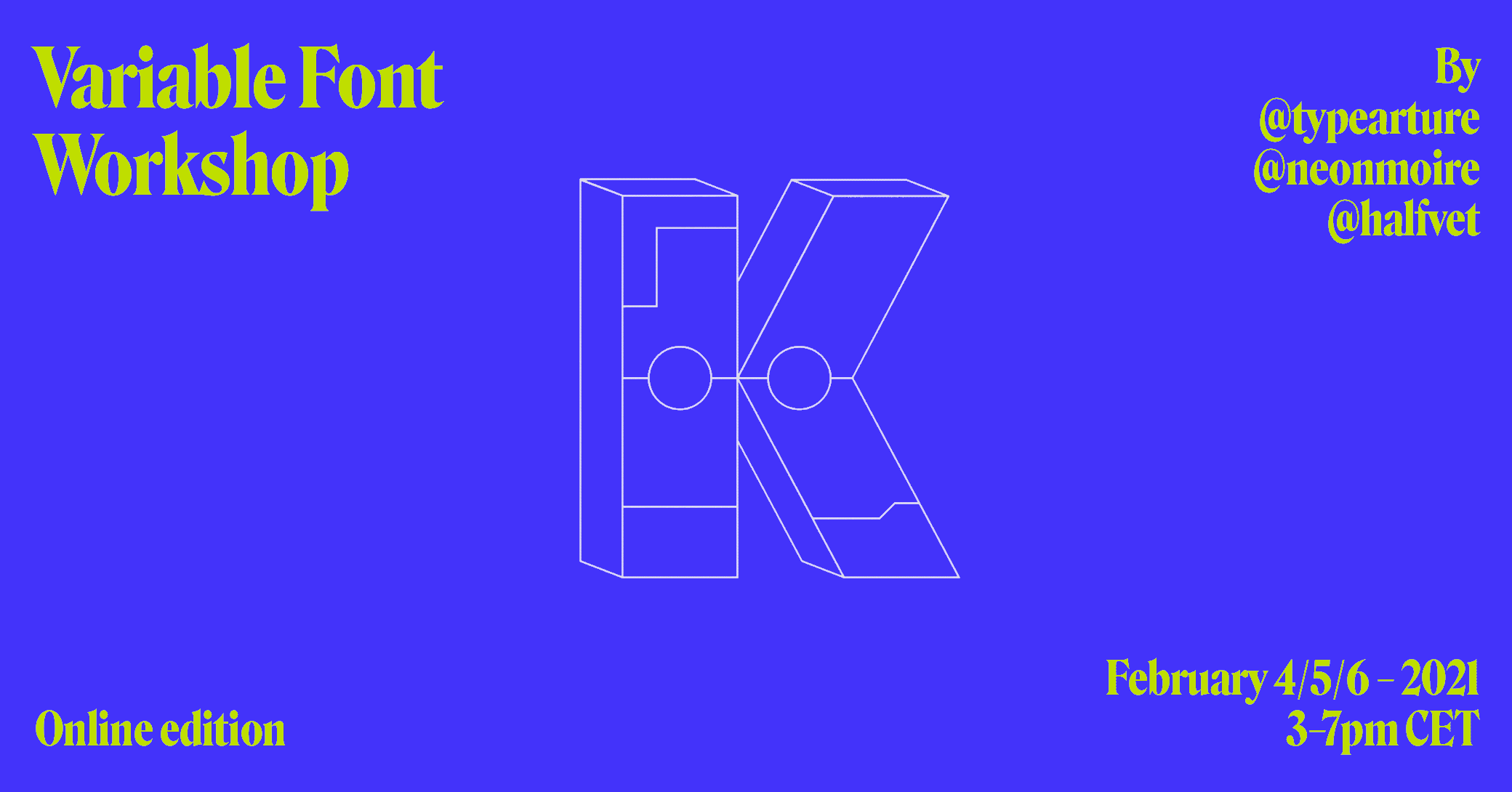 Variable Font Workshop with Typearture #4. The workshop is split over three day, with sessions of 2 hour. Arthur Reinders Folmer from Typearture will introduce you to the variable font technology and teach you how to create your own working font and how to implement it in HTML/CSS.
What will be covered?
Introduction: what are variable fonts, how does it work, what are the possibilities?
Glyphs app: how to create a letter, how to make it variable?
Creation: design one or more characters in Glyphs
Implementation: export to variable font file, set up css and html page
Playing: test and refine the variable font
What hardware/software do I need?
A Mac
A vector drawing program
If possible: a pre-installed version or free trial of Glyphs App
For Who?
The workshop is open to everyone interested in typeface design and technology. There is a maximum of 25 participants.
About Typearture (Workshop Leader)
Typearture is Arthur Reinders Folmer. From his base in Haarlem, he runs an illustration and design studio called Arthus and under the name Typearture he creates typefaces that are highly conceptual, illustrative or ornamental.
Arthur likes to play with the limitations of type technology. His fonts are not just collections of glyphs, but typefaces that use the conventions of type design and written language to tell their stories. To weave stories throughout a typeface, connecting A to Z and the Lemniscate to Question mark. To give each character has its place and meaning, making each keystroke a small tale in itself.
With the recent introduction of variable fonts and increasing support for color fonts, his adventures continue, using these new technologies to experiment further, hoping to find new methods for type design and use of typography.
About the hosts
Jeroen Disch is Design Lead at digital design agency GRRR. Also writer of Halfvet, a biweekly newsletter about digital design and typography.
Thomas Dahmis an independent graphic designer/developer and creator of Neon Moiré, an online platform for design conference organizers and visitors.