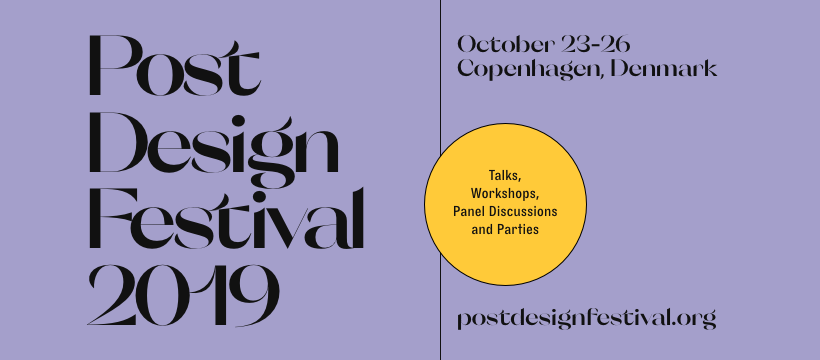 POST is an openly critical and collaborative design festival that challenges the place of graphic design, digital design and illustration practice in society during a series of talks and workshops in October 2019.
POST creates a communal space to discuss the place of design and illustration in society. With talks and workshops from practitioners and educators with unique approaches to their craft, existing preconceptions about what a creative problem-solver can achieve are confronted. Can graphic artists and designers provide solutions to the world's biggest problems? Addressing issues such as the ethics of design, the politics of image making and the unknowns of the creative future, POST offers a unique opportunity to explore, question and re-imagine the purpose of the graphic arts. In our increasingly image-based society designers and illustrators are growing more responsible for shaping the rhetoric of the visual future. But are we reflecting on whether this is the best possible future, and for whom?
Tickets
Student tickets: Two-day ticket for workshops or conference, early bird: 450 DKK Regular price: 600 DKK Professional tickets: Two-day ticket for workshops or conference, early bird: 1200 DKK Regular price: 1600 DKK
Get your ticket
Venue
ENIGMA Museum for Communication
Øster Allé 1
2100, Copenhagen
Denmark
View on Map
Related articles and podcasts
Plan your trip to POST Design Festival 2019 in Copenhagen
Workshops
Interfacial Work-Out, 
with 
Hackers & Designers (NL)
23 Oct 2019
-
24 Oct 2019
ENIGMA
Øster Allé 1
, 
Copenhagen
An introduction to intra-active bodily publishing exercises. The Graphic User Interface (GUI) is the designer's daily companion – friendly and convenient, it translates binary calculations into seemless and intuitive interactions. As skilled designers we embody our interfaces. While intuitively scrolling, clicking, dragging, dropping we provoke the computer to deploy, react, and return. In this intensive work-out session we will investigate the notion of embodiment in relation to designer-computer intra-action*. Together we will explore bodily ways to break with our own design habits by imagining what it could mean to physically engage with our design tools and a design process. Forget about your keyboards and trackpads. Together we will be designing bodily interfaces, that let us design a publication with gestures! – No prior knowledge required – Bring laptops – Install the Arduino software on your computer: https://www.arduino.cc/en/Main/Donate (You can install the free version)
POST POST (POST 3000), 
with 
Alexis Mark (DK)
23 Oct 2019
-
24 Oct 2019
ENIGMA
Øster Allé 1
, 
Copenhagen
Alexis Mark will collaborate with the participants of the workshop to investigate and present speculative radical scenarios for the future of communications services. The results will be integrated into a physical installation at this year's POST Festival. Our means of communication has undergone a radical change in the past century and with the influx of digital technology the volatile flow of information, data and objects have become second nature. Historically we have witnessed totalitarian regimes monitoring communication by opening letters and tracking who has been communicating with whom in order to control their population. Today it is the multinational companies who have access to all of our information and who decide the labour conditions of the workers packaging and sending our shipments. But how does this affect fundamental aspects of communication such as privacy, authenticity, censorship and the language we use to communicate? Come join Marie Grønbæk and Kristoffer Li of Copenhagen studio Alexis Mark to explore the future of communication services and the role of design within them!