Location

Attendance

In-person and Online Event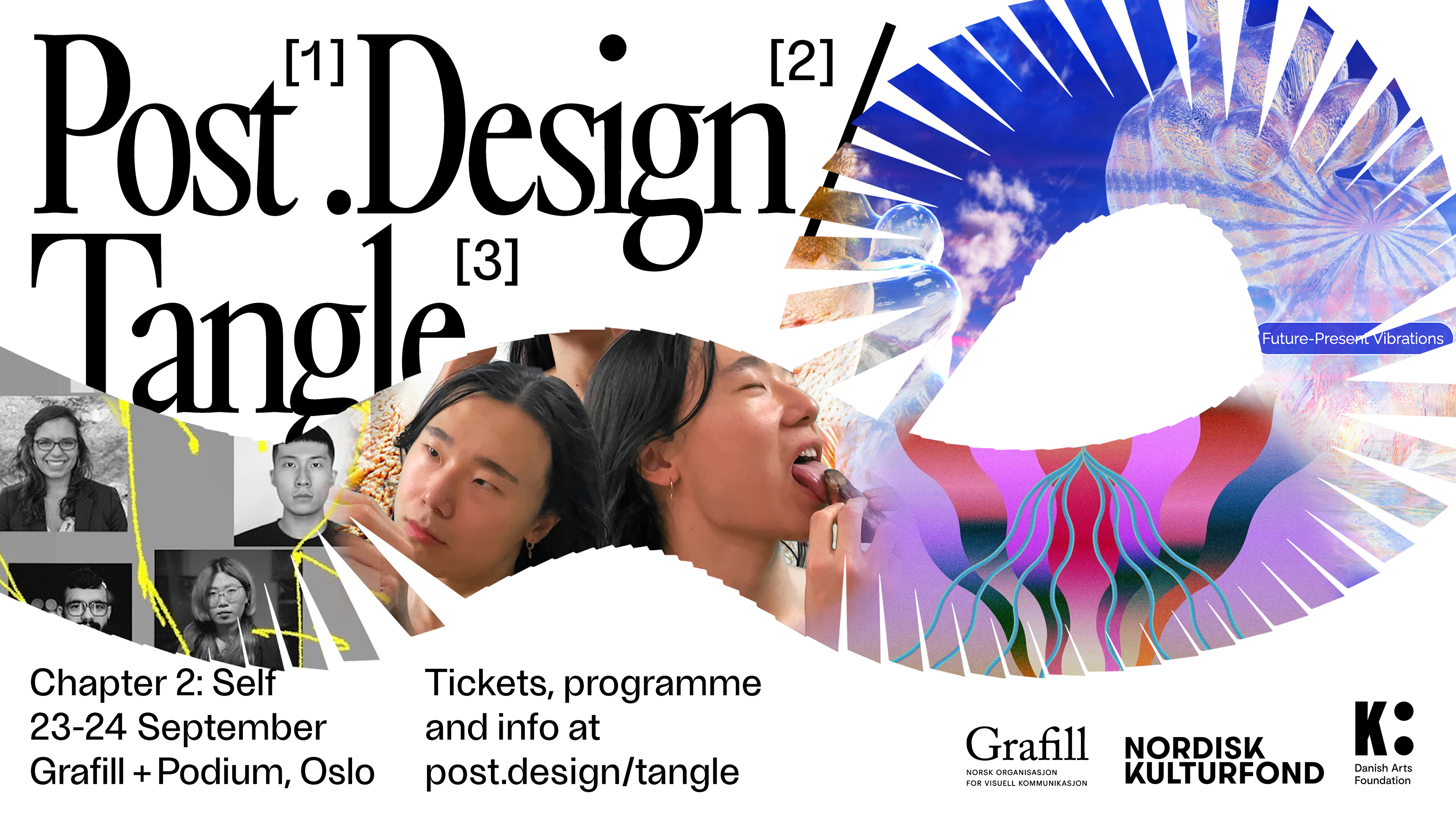 The Post Design Tangle comes to Oslo for two inspiring days with a workshop, an exhibition, and an international symposium about graphic design and visual communication, 23-24 September. The festival will fill the Grafill house and the nearby gallery space, Podium with people from all over the world to listen, question, share and talk about the visual communicator's role in society. Join in on the conversation!
Spanning two years, four locations, and a patchworked, online hub, the Post Design Tangle is a bind that ties together communities across the Nordics and the digital world; it's an informal circuit of flashing cables and intimate, in-person conversations. In four chapters, the festival takes us deep into the theme of "entanglement," where we'll unravel the intersections, interconnections, and invisible strings that give shape to our visual and political surroundings. The second chapter, SELF, will take place from 23–24 September 2022 in central Oslo, Norway, bringing together four wildly inspiring designers and an artists' collective for two intense days. Co-organized and hosted by Grafill, the festival will investigate how the body, personal identity and the situated knowledge of the self/selves can inform the work of designers and artists. Reduced ticket prices are available for members of Grafill and design students. The Post Design Tangle is generously funded by the Nordic Culture Fund, the Danish Arts Foundation.
Tickets
Workshop: regular 400 NOK / reduced price 100 NOK. Symposium: regular 400 NOK / reduced price 100 NOK.
Tickets
Workshops at Post Design Tangle CHAPTER 2: SELF
Chimera Gastronomy: Malleable flesh, amalgamated bodies, and plastic kinship' with Noam Youngrak Son

23 Sep 2022 - 24 Sep 2022

In Noam Youngrak Son's workshop 'Chimera Gastronomy: Malleable flesh, amalgamated bodies, and plastic kinship', the group works individually and collectively on a large malleable body sculpture. During the creative process, identities, gender and notions surrounding ethics are discussed and reflected. The co-created sculpture is thus a translation of our collective and personal struggles, interspecies discoveries and political feelings around bodies in this society. The result of the workshop is a so-called Chimera: a living being that arises from cell mixing — a collective visual(ised) identity of sorts.

Price: 400 NOK
Plan your trip to Post Design Tangle CHAPTER 2: SELF in Oslo