📍 Munich, Germany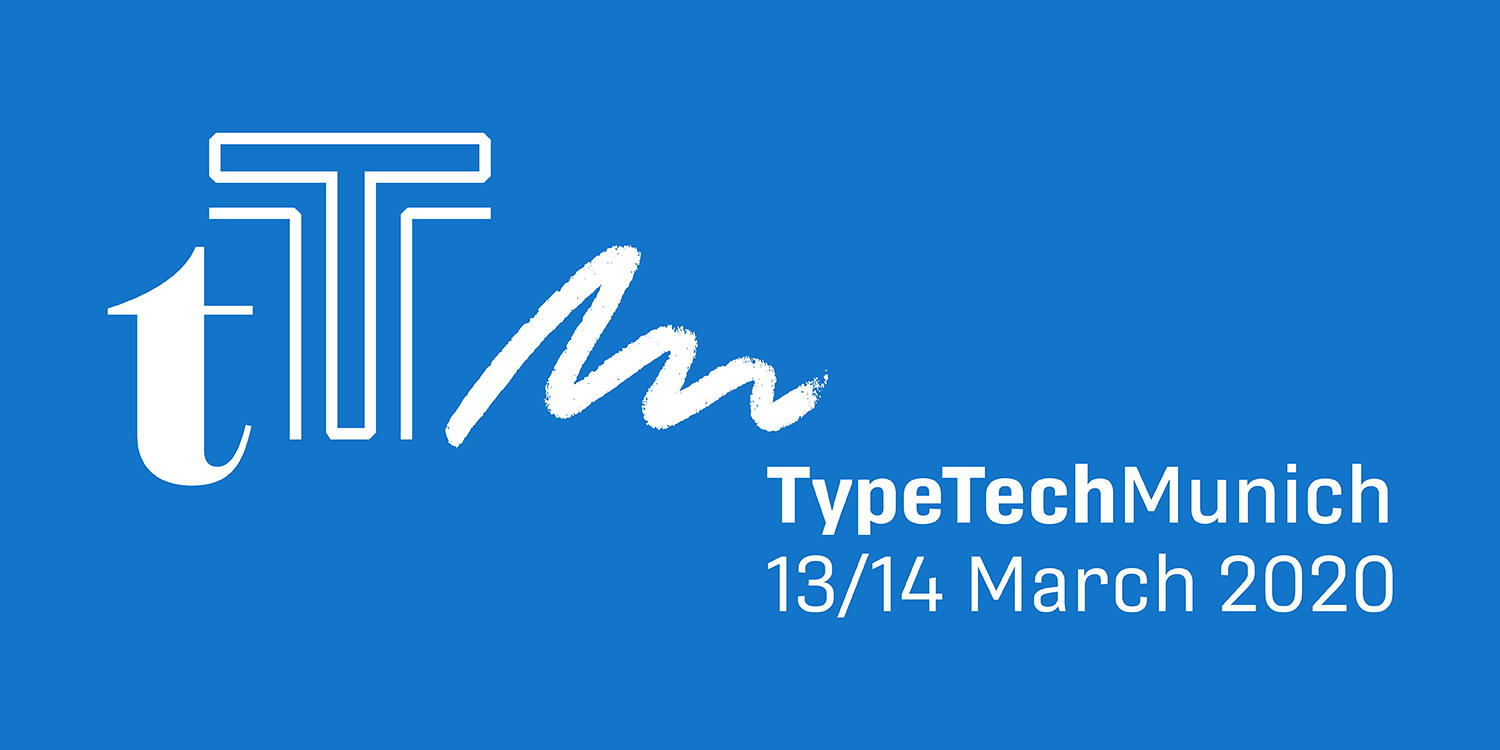 TypeTech MeetUp hosted by ATypI and GRANSHAN is a unique event during the Munich Creative Business Week (MCBW), where communities of font engineers and designers, web designers and developers, industry experts and tech & business professionals gather in a relaxed atmosphere.
It is a forum to jointly develop, discuss and document the current state of font technology as well as create a platform for the exchange of best practices, to advance the state of the art and to promote the integration of new technologies into future digital communication. The event will include decisive input lectures and professional discussions on Friday. Saturday will focus on roundtable discussions and workshops. Additionally, there will be the option to take part in a TypeWalk through Munich and in the evening there will be a special announcement from Glyphs and the catalog of results from the roundtable discussions with music and free drinks. + Learn about new technologies and how type impacts the world of Web, UI/UX, AR/VR. + Get inspired and meet people that will help you grow your business. + Attend a series of workshops, talks and panel debates from industry experts. + Meet 90+ professionals in a uniquely collaborative environment. Confirmed speakers include Claudia Friedrich, Frank Rausch, Irene Vlachou, Joana Ranito, Bianca Berning, Vitaly Friedman, Niteesh Yadav, Titus Nemeth, Jan Charvát, Yanone, Isabel Lea, Laurence Penney and more to be announced soon.
🏋️‍♀️ Workshops
Smart responsive interface design patterns
, 
with 
Vitaly Friedman, Creative lead at Smashing Media AG, Freiburg, Germany
KOCHAN & PARTNER
Hirschgartenallee 25
, 
Munich
Are you ready for a design challenge? In this workshop, Vitaly Friedman, creative lead and front-end/UX consultant behind Smashing Magazine, will be taking a microscopic examination of common interface components and problems appearing in responsive user interfaces. In this workshop, we'll be spending an entire day drawing and designing responsive interfaces, starting from accordions, to date/time pickers, sliders, feature comparisons, car configurators all the way to insurance calculators and trip planners. The workshop is intended for intermediate/advanced designers and developers who have an understanding of responsive design, interface design and mobile design. Most techniques are borrowed from mid-size and large-scale real-life projects, such as large eCommerce projects, online magazines and web applications. We won't cover the basics, instead, the workshop covers more advanced — and often obscure and innovative techniques.
What if information gets visual in digital systems?
, 
with 
Claudia Friedrichs, Managing Director, Zweigrad Design, Hamburg
KOCHAN & PARTNER
Hirschgartenallee 25
, 
Munich
In this hands-on workshop, we proceed a condensed design process for the optimised application of fonts. Starting with creating a use case for a daily use of an interactive product. Having a look at the user, the context and the information that is needed. What information is needed? How relevant is the information in the certain context? How should the information be transferred to the user? How should it be visualised? What are my expectations as users? With all those questions we try to figure out the best user experience as well as requirements for the font and technical implementation.
Hands-on Variable Fonts: a guide not only for web designers
, 
with 
Jan Charvát, Font Engineer
KOCHAN & PARTNER
Hirschgartenallee 25
, 
Munich
Variable fonts are meant to be the future of web typography and you can get the chance to know all about this new technology. We will go through the basics, the technology, possibilities and how to use it on web pages. You will get to the code, and you will try yourself how to implement them into your pages, but don't worry if you are non-coder, you don't need to know coding or any kind of programming to apply for this workshop, it is not only for geeks. It is really hands-on, so please bring your laptop with you.