📍 Prague, Czech Republic
The third edition of Mouvo focus on the specifics of the interdisciplinary overlaps in which motion design originates. On the creative process that builds on the principle of cooperation above and beyond a genre-specific box. To think beyond. To try harder. To cross borders, break barriers and influence one another.

Related interview with Vladka Cimbalnikova, co-owner of Oficina and Mouvo producer in 2016.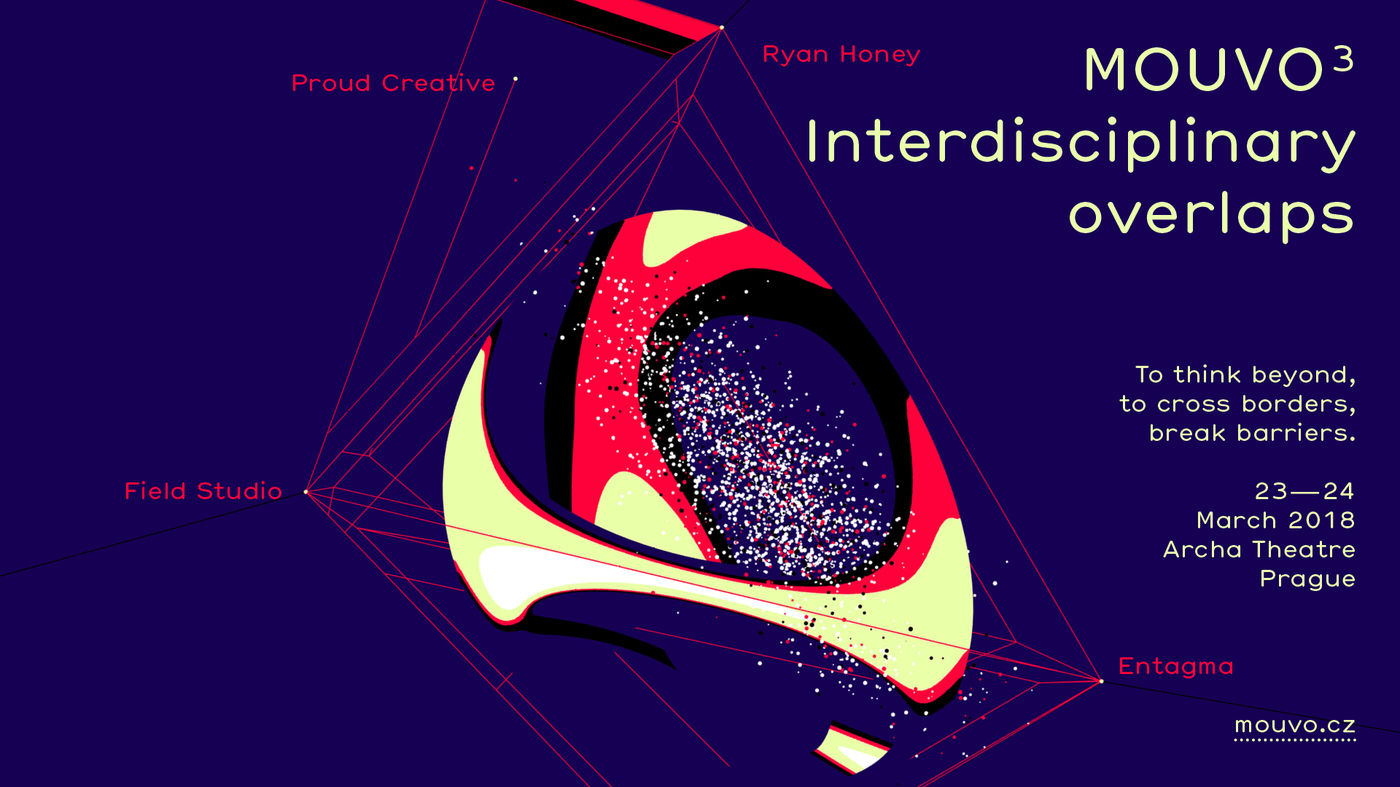 Speakers' Profiles:
BUCK | Ryan Honey
Ryan Honey helped create Buck fourteen years ago and is currently in charge of one of its three offices. Under his leadership, the Los Angeles studio develops a rich and playful mixture of works ranging from traditional animation, motion design and film to sophisticated 3D animations and special effects. The award-winning studio's many clients include leading American firms like Google, Apple, Facebook, CNN or IBM. With its philosophy centring on collaboration, the studio boasts a long list of awards and achievements. Last year alone, Buck's projects received as many as fifteen different international awards.
Field
The visual magicians from Field will take over the entire Friday evening's programme. They will provide a comprehensive overview of their approaches to work, ranging from interactive projects to giant projection installations and motion design. Besides the visual and aesthetic aspects,they will also discuss the theoretical, strategic, conceptual and production-related ones. Thestudio's work combines artistic and technological approaches and has attracted the interest of a series of brands from a wide range of industries, including sports (Adidas, Nike), automotive (Maserati), fashion (Diesel, Stella McCartney), culture (British Library, Whitworth Gallery) and others.
Dvein
The Barcelonian duo of directors Teo Guillem and Carlos Pardo produce their work under the label of Dvein. They are engaged in both commercial and cultural projects, where they make use of their sense for experimenting. They primarily combine various film camera and live visual effect techniques with sophisticated computer simulation. Their distinctive visual style has found resonance in clients like National Geographic, Canal+, the Alagoas and Vein music groups and the F5 New York creative festival, to name a few.
Proud Creative
London's Proud Creative is famous for its sophisticated strategic approach to design and branding. The studio can pride itself on its exquisite works for a number of British and international clients, such as Sony Playstation, BT Vision and CNN. Although the studio's work centres on branding and visual identity, motion design plays a vital role in the resulting visual communication. In the past, Proud Creative was also one of the pioneers of television branding, having become famous for its conceptually strong series of idents for S4C, a Welsh TV station.
Entagma
Manuel Casasola Merkle and Moritz Schwind are the two leading figures at Aixsponza, a Münich-based studio. They are also technology magicians enthusiastic about software solutions for demanding and complex projects in the Houdini 3D system. The topics they address in their tutorials at the Entagma website include the most advanced simulations, complex computer graphics and sophisticated procedural design.
Found
London's Found studio specialises in motion design, film and video for different platforms, managing all project phases from the initial idea to the final implementation and placing a high degree of emphasis on their aesthetics. Found's commercial clients include Microsoft, BBC, Rolls-Royce, Arte and Sony Playstation as well as musicians like Ellie Goulding and Take That. In addition, the studio is also engaged in its own film production: last year, it received a series of awards for its short film The Dog and the Elephant.
Discussion Panel: Interdisciplinary Overlaps
Motion design is in itself a flexible intersection of several different fields. By its very nature, it is a force that drives the boldest ones to try harder. To cross borders, break barriers and influence one another. To look for paths that have yet to be discovered. In the discussion panel, the speakers will try and consider how different people with varied approaches influence one another in joint projects. But also how finding way into other fields transforms our our work
🎟 Tickets
Regulard ticket: 2200 CZK / Student ticket: 1800 CZK / MOUVO Lover ticket: 3500 CZK

Places to Stay
And of course there is always
Airbnb