Organized by:
POST Design Festival
Copenhagen, Denmark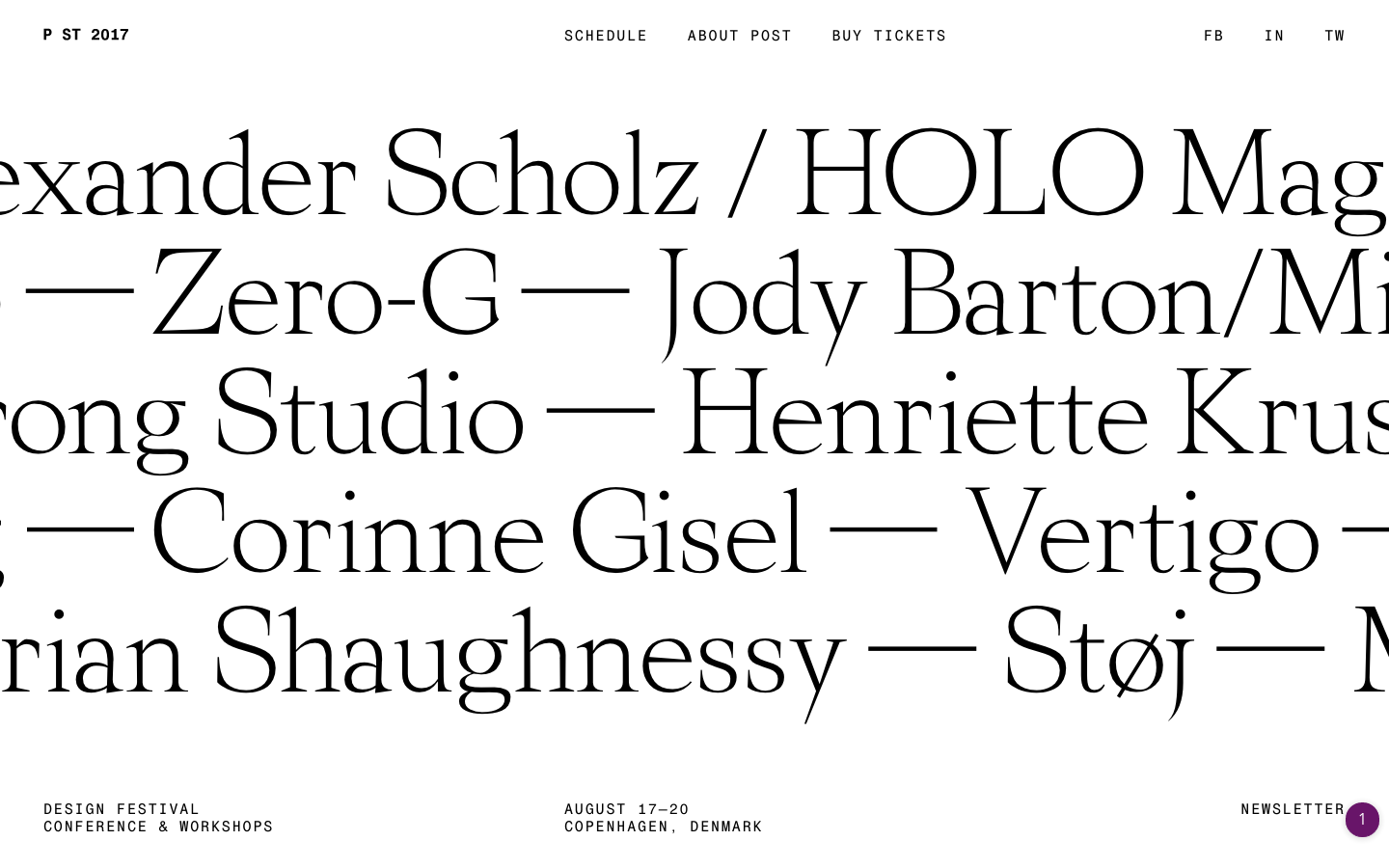 Second edition of POST Design Festival. The design festival explores the working life of the visual communicator and the ethics of design, with an emphasis on graphic design, illustration and image making. The speakers will explore the personal and political aspects of their work, debates will tease out the realities of personal and commercial practice and workshops will allow participants to explore new approaches to creation and communication.
We interviewed founders Jody Barton and Peter Folkmar just before the first edition about starting the festival, and its identity. Read the feature.

Thursday 17 Aug 2017
Friday 18 Aug
Saturday 19 Aug
10.00 — 10.45
Speaker, Space10
Space10
11.00 — 11.45
Speaker, Space10
Byggstudio
12.00 — 12.45
Speaker, Space10
Vertigo
13.00 — 14.00
Space10
Lunch Break
14.00 — 14.45
Speaker, Space10
Johan F. Krarup
15.00 — 15.45
Speaker, Space10
Zero-g
16.00 — 16.45
Speaker, Space10
Corinne Gisel
17.00 — 17.45
Speaker, Space10
Adrian Shaughnessy
18.00 — 19.00
Panel, Space10
Making Us Visible: Visual Communication In The Nordic Region
21.00
Party, Bakken, Flæsketorvet 19-21
Post Party: Drinks & Music
Sunday 20 Aug
Speakers
Adrian Shaughnessy (UK)

Alexander Scholz (DE)

Byggstudio (SE/NO)

Cecilie Nørgaard (DK)

Corinne Gisel (CH)

Designmuseum Danmark (DK)

Government Digital Service (UK)

Hardworking/Goodlooking (PH/US)

Henriette Kruse (DK)

Jakob Trollbäck (SE/US)

Joakim Drescher (DK)

Johan F. Krarup (DK)

Katri Soramäki/Grafia (FI)

Lina Forsgren/Feministiska Kommunikationsbyrån (SE)

Mads Quistgaard/Danish Design Council (DK)

Matilda Plöjel (SE)

Marie Jacotey (FR)

SPACE10 (DK)

Suvi Saloniemi/Designmuseo (FI)

Vertigo (DK)

Wrong Studio (DK)

Zero-G (IE)
Workshops
Generative Graphics with Støj
Participants will explore the intersection between graphic design and coding and learn how to build their own digital tools. — Buy Ticket
Face-Time with Miss Lotion & Jody Barton
Hands-on, lo-fi selfie and "otherie" party to explore distinctly silly, haphazard and downright bizarre portrait ideas. — Buy Ticket