📍 Rotterdam, The Netherlands
Design summer school Rotterdam Babylon on Visual Complexity in Social, Autonomous and Commercial Practices. First edition of this intense 8-day summerschool organized by WdKA (Willem de Kooning Academy Rotterdam). During the week you engage with fellow designers and artists ánd the city of Rotterdam to explore, identify and strengthen your professional engagement. You learn how to reach out in complex social environments, and make the communication bubble pop!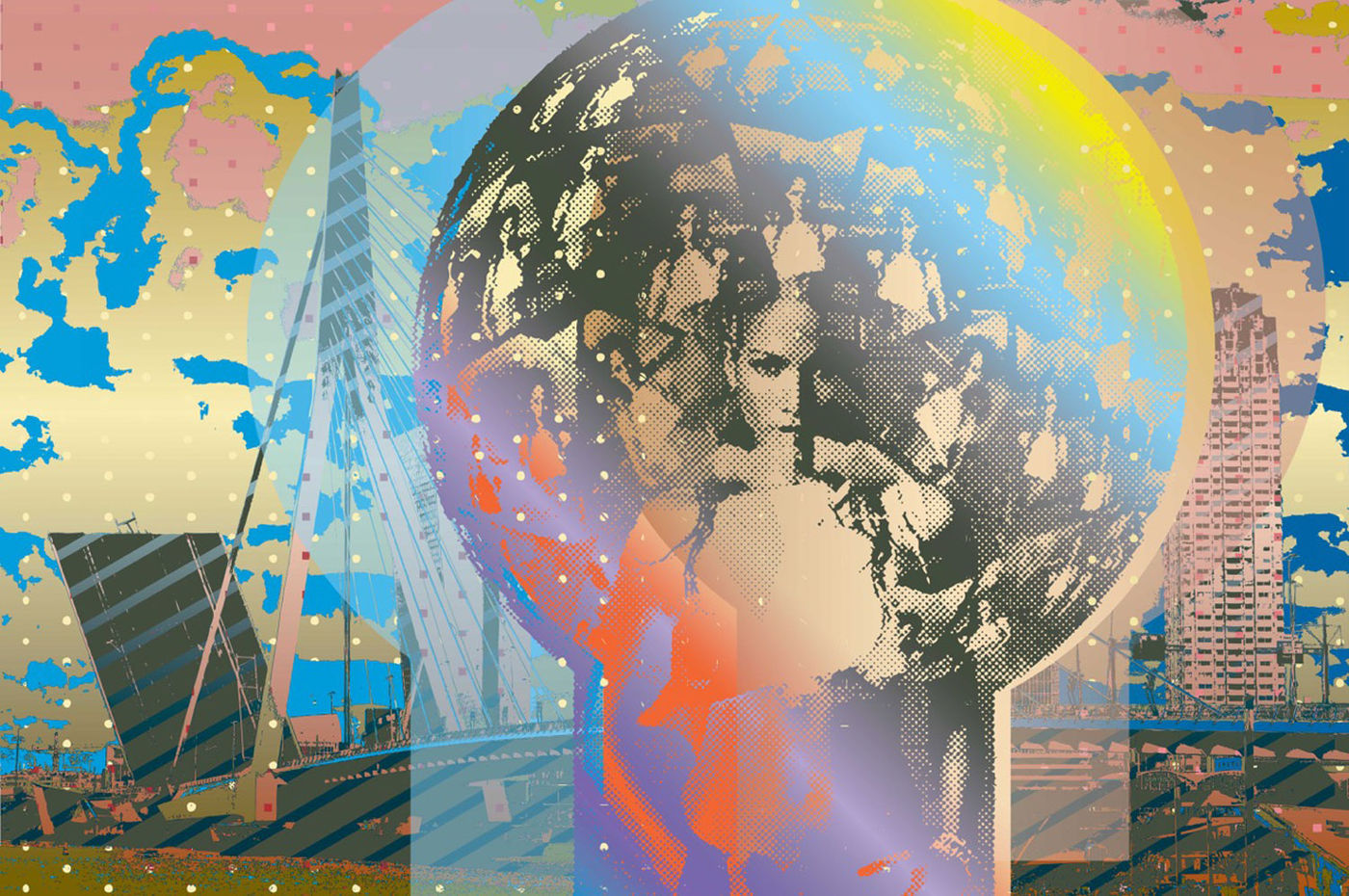 Course content
The 'filter bubble' is the new default term for social failure, the failure to connect with 'the other'. However as negative as it might sound, it does ring a bell. Long before the coming of age of social media, people had a tendency to fence themselves in in a group, whether it be age, religion or dress codes and street culture. So how do we infiltrate and crossover the peer-to-peer codes?
Mass communication strategies traditionally limited themselves to the boundaries projected on target groups. In the Social
Media Reality everybody produces content. And is able to distribute this through peer to peer social media platforms, which are controlled by algorithms focussing on preferences and behaviour recognition. Thus creating a virtual information bubble around an individual that runs parallel with a person's 'desired life', but not necessarily with a person's 'real life'.
By studying behaviour of the individual in urban and social space we come closer to understand the need for different models to approach society in order to reduce social exclusion. Awareness building on the necessity of autonomous thinking of the designer vis-à-vis building different models of economic exchange like doughnut economy, circular economy, blue economy, peer to peer economy, sharing economy etc. and reflect on the perception of people as commodities, whether by corporations or other individuals.
This summer school course sets out reach the individual behind the 'façade'. By developing tailor made communication concepts for individuals. By analysing public space, fictionalize this analysis towards a communication concept by design workshops, and to rapid prototype interventions in public space.
Course design
The course will focus on the city triangle most associated with cultural diversity and commercial enterprise (institutions, shops, visitors, inhabitants, workers)
Through a playful 'forensic study' the different fields are highlighted - the summer school runs you along the various aspects of art and design. Systematic observation by photography and a group-breakdown of the results will result in a richly composed mix of workshops, exercises, flash lectures, peer review and meet & greet. We deconstruct the city, the citizen and 'the invisible aspects' that influence our behaviour.
Practical and contemporary urgent issues of the municipality of Rotterdam form the backdrop for this exercises. The municipality is a committed partner that will participate during the course.
The result will consist of a research dossier and a sum of creative observations that can bring a lasting insight in contemporary city economy and its influence on citizens.
For who:
Students at University or University of Applied Sciences level in the field of Art, Design and Culture
Orientation and preparation-course for the transition from Bachelors to Masters
Active in related cultural areas, cultural and communication studies
Learning outcomes
What are the skills you need in the 21st century and how do you identify your own professional engagement? What type of artist or designer are you actually?
What are your ambitions and qualities and how do you find out? By following the Summer school of WdKA and you will get to know the inclusive process, the whole story. Within the working field of designers, artists and everything in between, this Summer school reconstructs the 'act' and 'interaction' of the processes within the various visual disciplines.
Are you a sculptor, conceptual thinker, a creator, an organizational talent, do you thinking in new business models, are you a linguist, a craftsman, a researcher, a strategist, an individualist or team worker, pro or reactive, do you want to be in lead yourself? Who are your clients, or are you your own client?
If you do not choose, someone else will choose for you!
Learn to:
Identify three different approaches to societal issues, autonomy, social engagement and future scenario's
Work and act within a multiform and diverse society
Improve your visual and textual qualities
Rapid prototype interventions
Have self-confidence in your own view and ambition
Building a professional network
Re-design and enjoy your professional career
Language
English
Introductions with experts on
The history of Rotterdam (as cities can be seen as the new countries, with Rotterdam as the subject)
Future visions on Rotterdam
Population and demographics Rotterdam
Visions on Happiness and business
On troubles and enforcement with the Locale police
Flash lectures (under construction):
on Exactitudes or Dress codes in Public Space
on The Ethnical Visual Coding in Streetwear of Young People
on Design as Politics
on Speaking The City with slam poets
on Sculpting The City with artists
on The City as a Movie with filmmakers
on Police Visibility and identity with designers
on Sex and the City with writers and performances
on doing Business with Start-ups and chamber of commerce
on Architecture and urban planning with visionaries and urban planners
A team of outside crits and troublemakers will join us along the course.
Entry level
Preferable bachelor's degree or comparable level
Summerschool experts
Edith Gruson and Gerard Hadders & experts from the Commercial, Social and Autonomous Practices
Institute
Willem de Kooning Academy Rotterdam, University of Applied SciencesFaculty: Experts from the Commercial, Social and Autonomous Practices
Course credits (ECTS)

2 ects, certificate
Application deadline
April 30, 2018 — Apply
Tuition fee
Euro € 1750,00. Including the summerschool course, course materials and accommodation in 'the student hotel'. Not including, other living expenses, local travel costs etc.
🎟 Tickets
€ 1750,00. Including the summerschool course, course materials and accommodation in 'the student hotel'. Not including, other living expenses, local travel costs etc.