The Neon Moiré Selection for September 2016
by Neon Moiré
Here are Neon Moiré's top picks of design-driven events around the world in September 2016. From South East Asia to Nashville, Tennessee, with some nice stops in Europe. This month's issue covers all visual design disciplines. Bringing you lots of inspiration and a ton of opportunities to meet new and old friends. Enjoy!
The Neon Moiré top picks is where we present the best events for an upcoming month. For this selection we take in counter: the quality of the line-up, price, venue and side-event. What type of event is it, directed to all the nerds out there, one to meet new people or meant for a ton of inspiration, to return recharged. Furthermore we look at the richness of the conference city / area so we know you can stay longer or come earlier to discover new unexpected treasures.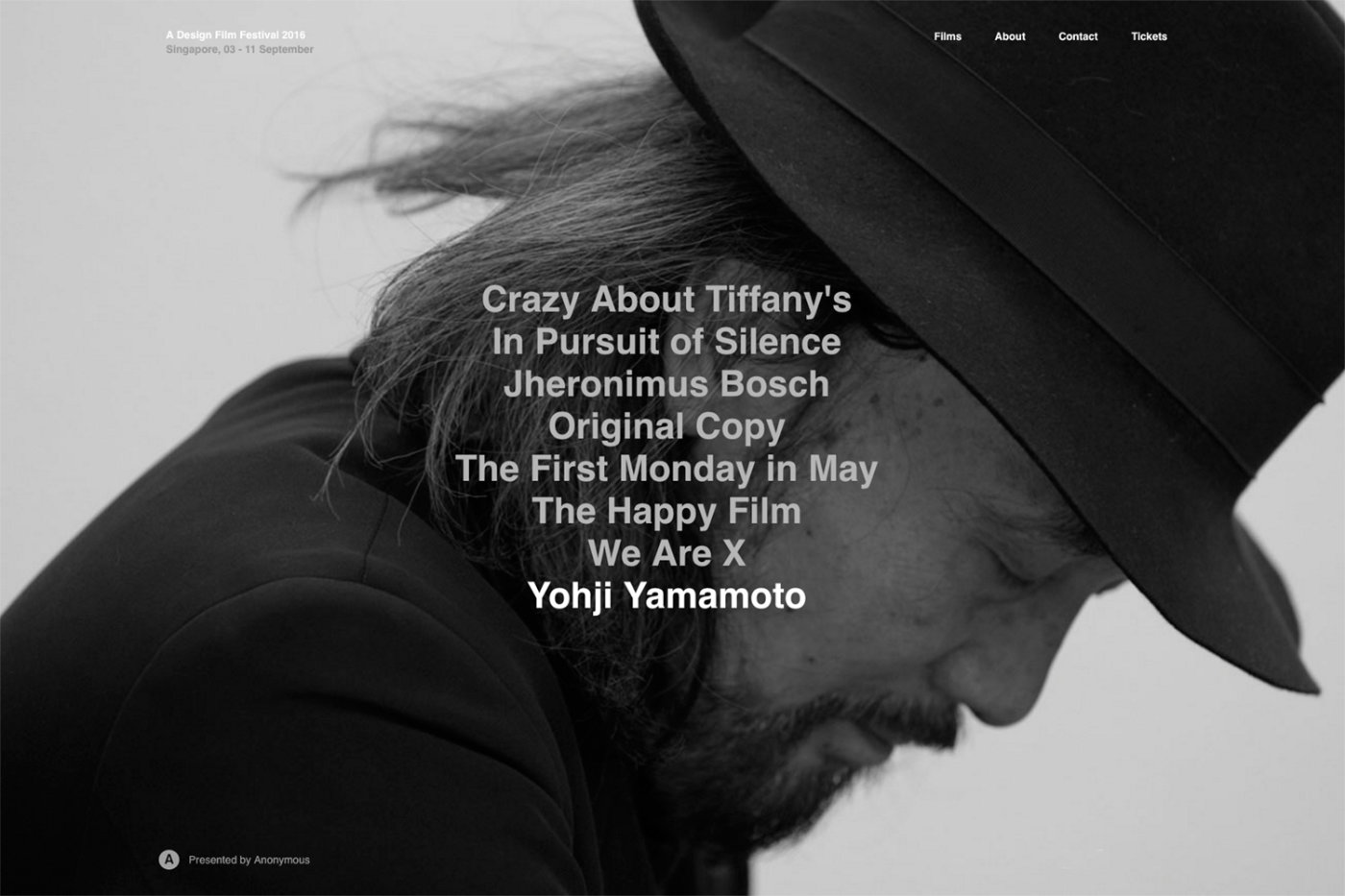 A Design Film Festival
3 – 11 September 2016, Singapore
Back in 2010, design studio Anonymous launched A Design Film Festival in their hometown Singapore. The film festival is dedicated to design, with a curated collection of films on design and its subcultures, such as architecture, fashion, product design, urbanism, photography, contemporary art, sign-painting and craft. This year the organisers present 8 feature films: Crazy About Tiffany's, In Pursuit of Silence, Jheronimus Bosch, Original Copy, The First Monday in May, The Happy Film, We Are X, and Yohji Yamamoto. On top of that, the festival also introduced a video on demand service. So if you are not able to attend the screenings in Singapore you can watch works from their amazing selection from your comfortable couch.
We talked with creative director Felix Ng about naming, curating and how no branding can be branding. Read the interview.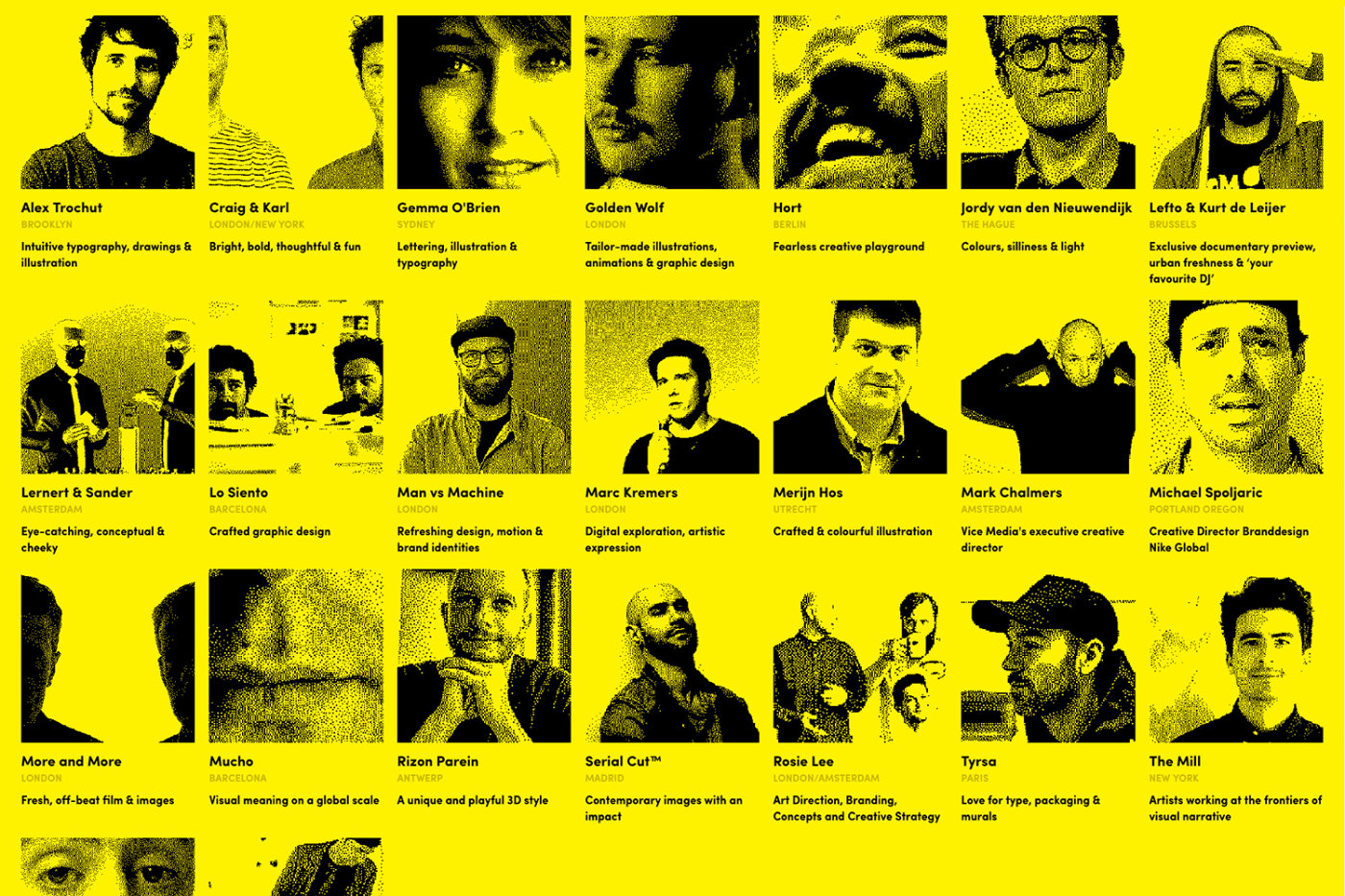 OFFF by Night
22 – 24 September 2016, Antwerp, Belgium
This is the very first night edition by OFFF. After Porto, Mexico City, Cincinnati and Moscow OFFF festival will dock at harbor city Antwerp. This is where the Belgium creative scene is blooming. OFFF by Night is a three evening-event which is held between 6 and 11pm. A refreshing concept, be prepared for a night filled with inspiration. The OFFF team has curated a bold line up. With speakers like: artist Alex Trochut, illustrator Jordy van den Nieuwendijk, filmmakers Lernert & Sander, Mark Chalmers (creative director of VICE), visual effects studio The Mill and many more. All this builds up to what must be an incredible first edition of OFFF by Night. We will be back with an interview with Rizon Parein organiser of OFFF by Night and is also self taught 3D graphic designer.
Brand New Conference
15 – 16 September 2016, Nashville, USA
After a successful Brand Nieuwe Conference, in Amsterdam last June '16. Organizers Armin Vit and Bryony Gomez-Palacio, are on to their 7th Brand New Conference. This traveling this time takes place in legendary citymusic Nashville, Tennessee. Brand New Conference is a two-day single track conference on corporate and brand identity, presenting today's most active and influential practitioners around the world. Speakers are: Charles S. Anderson, Clara Mulligan, Manuel, Mackey Saturday, Dirk Barnett, Kristine Arth, Matias Duarte, Tony Brook (also speaker at AGI Open), Luke Stockdale, Min Lew, Mike Alderson (also speaking at OFFF by Night), Ben Hulse and Greg Durrell, Theresa Fitzgerald, Jim Sherraden. As always the Brand New Conference identity looks amazing.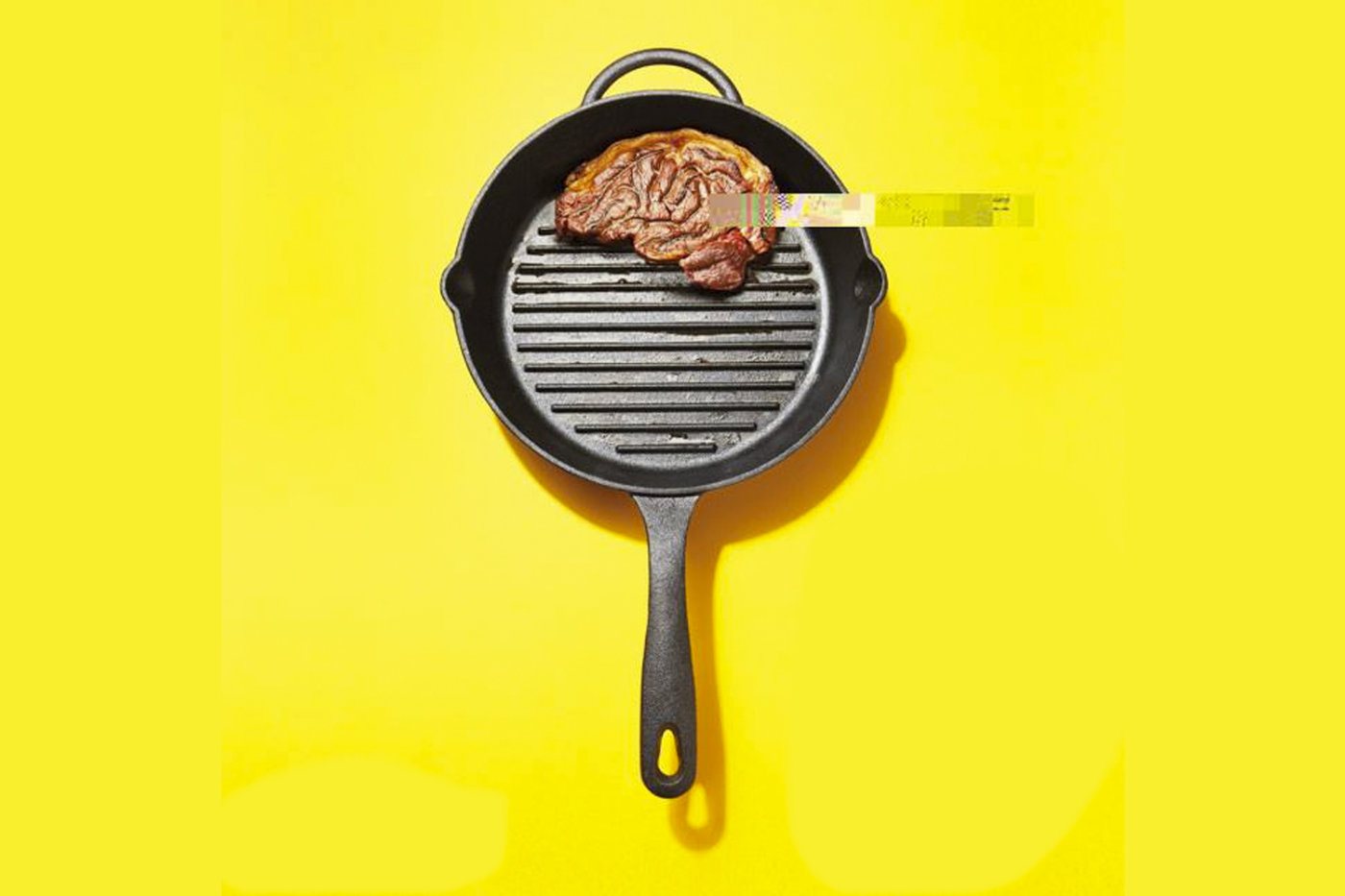 FutureFest
17 – 18 September 2016, London
This is the third edition of the FutureFest weekend in London. It's a festival full of experiences, performances and radical speakers to challenge perceptions of the future. Themes this year are: Future LOVE, PLAY, WORK and THRIVE. This upcoming edition is curated by Ghislaine Boddington, Pat Kane, Ruth Amos and Dr. Morgaine Gaye. The FutureFest line up is packed with speakers who inspire others to shape the future, like Anjali Ramachandran, Es Devlin, Scott Smith and Soh Yeong Roh. The festival has a very friendly ticket pricing. Students get 50% off!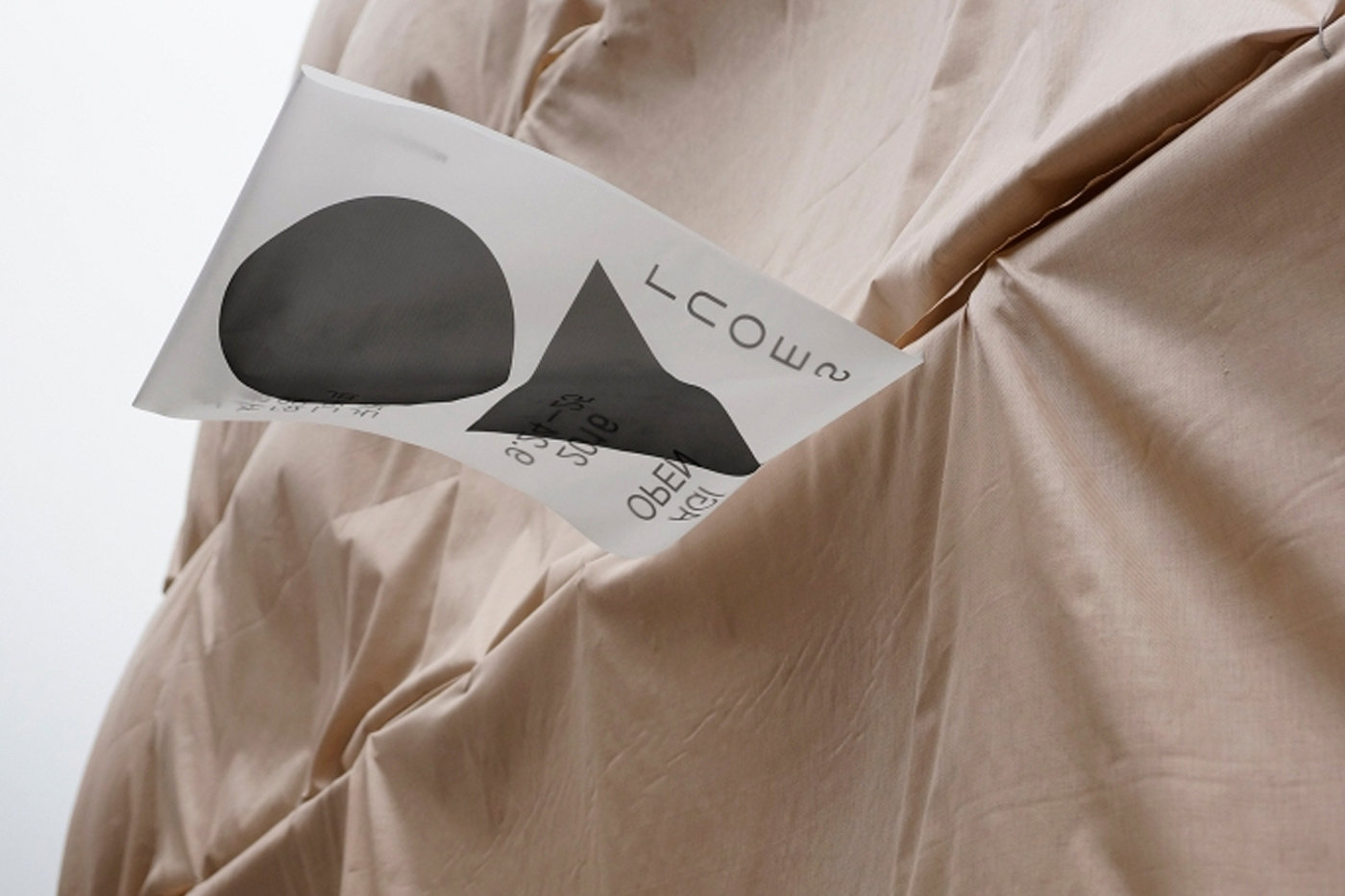 AGI Open Seoul
24 – 25 September 2016, Seoul
AGI Open 2016, is a not-for-profit two-day conference of Alliance Graphique Internationale. AGI brings together the prominent graphic designers of the world. This will be the first AGI hosting in Seoul. Seoul is the capital and the largest metropolis of South Korea, marking the world's 14th largest city and second largest metropolitan area. AGI Open 2016 presents world-renowned graphic designers varying from respected masters to emerging designers. The complete line up: Jin Dallae, Park Woo Hyuk, Stefan Sagmeister, Marian Bantjes, Sascha Lobe, René Knip, Lucienne Roberts, Stanley Wong, Aaron Yung-Chen Nieh, Nicholas Blechman, Shin Sobue, Marina Willer, Alejandro Paul, Eddie Opara, Markus Weisbeck, Norio Nakamura, Evelyn & Dirk, Tony Brook (also speaker at Brand New Conference), Cho Kyuhyung, Markus Dressen, Keith Godard, Lam Hung, Anette Lenz, Fanette Mellier, Christoph Niemann, Paula Scher, Paula Troxler and Garson Yu.
Your experience?
Are you planning to attend one of these events or another one? We are curious to hear your experience. Let us know via Twitter, Facebook or DM.
More design events in September
Discover all curated design conferences and events for september and beyond in our guide.
Please feel free to submit your event, festival or conference. If you have more information or details for any of the events listed, or information on a event we might have missed, please fill out this form and we will update our page.